See Our Reviews HERE!
Dental Practice in Spring Hill, FL
Thank you for visiting Shuayb Dental's page for our Spring Hill location. This page has been designed to help individuals connect in the easiest way possible with our Spring Hill location located at 229 Mariner Blvd Spring Hill Florida 34609. Shuayb Dental Spring Hill is here to help all individuals who are looking for a great dentist in Spring Hill. Whether you are a new patient or an existing patient, you are in good hands at Shuayb Dental. Shuayb Dental offers all types of dental care including: cleanings, teeth whitening, fillings, crowns, bridges, dentures, and more. Many Spring Hill dentists offer those same services. You are likely asking, what sets Shuayb Dental apart from other dental practices that offer the same services? There are many things that set us apart from other dental practices, some of which we will highlight below. The words "patient care" are all-encompassing words that could describe every part of what our dental practice does. However, a dental practice can take a number of steps to improve the level of patient care.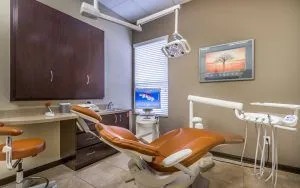 Technology
Shuayb Dental is always investing in new technologies. The investment in new dental technologies allows our patients to have a better overall experience. Our use of laser technology is one such example of our dental practice using technology to improve a patients experience within our practice. Lasers can perform a number of different procedures within a dental practice. However the most useful procedure in which lasers can be used is to treat gum disease. Traditional dentistry would require for a dentist to use metal tools to scrape along the gum line which causes bleeding and pain. Traditional methods also expose the gum line to more bacteria and a well as increase the risk for infection. Additionally, the length of time it takes for someone to heal is drastically reduced by using laser technology.
Comfort
Historically, a dental office has not been associated with the word comfort. Typically a dental office is not where people feel the most comfortable. However, our dental practice has taken steps to ensure you are comfortable within our practice before, during, and after your appointment. Our dental practice uses methods throughout all dental procedures to reduce discomfort. Whether it is our use of laser dentistry, our implementation of CEREC procedural methods, or simply providing a comfortable environment, our dental practice makes your comfort level one of top priorities.
Staff
You'll find that our dentists, hygienists, and staff are friendly, caring, and helpful. We consider ourselves fortunate to have been able to procure such a talented and friendly group of staff members. Our dentists are all members of the Shuayb family. The hygienists and staff members have been carefully chosen by the Shuayb family for their skill level and friendly demeanor. The staff at the Shuayb Dental Spring Hill location will make sure your dental experience is a pleasant one.
Call us today to schedule your appointment at our Spring Hill dental office.
Shuayb Dental looks forward to help you with all of your dental needs. We are sure you will be a patient at the top-rated dental clinic in Spring Hill FL – Shuayb Dental for many years to come.
Types of Insurance we Accept
Principal
Humana
Cigna
Aetna
Ameritas
Reliance
Physicians Mutual
Standard
Principle
GEHA – Connection Dental
Guardian
UHC
United Concordia
Metlife
Delta Dental
Argus – Freedom/Optimum
Liberty
Solstice
Florida Combined Life – Blue Dental
Assurant
Sun Life Financial
Careington
Heritage
Visit Shuayb Dental for High-Quality Dental Care in Spring Hill FL
Quality family & cosmetic dentistry at affordable prices
A top-rated dental office serving Hernando County, based on Google reviews
We accept most dental insurances to help with costs
Dr. Shuayb is a trusted local dentist that truly cares about their patients
Costs for procedures can vary based on each individual, contact us for more information
We can often accommodate same-day appointments
See Our Reviews HERE!